HISTORY
In February 2012, The California Military Department worked with the Speaker of the Assembly, John A. Perez, to tackle the  unemployment rate of their soldiers and airmen. The goal was to reduce it by 25% in a year, which was accomplished and exceeded. Since then, we've had the pleasure and honor of serving California's veteran community through employment assistance and training. With the initial intent to assist the California Military Department service members, we've grown, expanded and created over 900 business partnerships throughout California.
We succeed when you succeed
"I want to thank Work For Warriors (WFW) for the opportunity and career I now have in the Aerospace Industry! In 2017, WFW assisted me in finding a fast job while I continued looking for something in the Tech Sector. 9 months later, WFW helped me get into an Entry Level Tech role and then 9 months later, in 2018 WFW submitted my resume to an Aerospace Industry leader, I interviewed and was hired as Clean Room Tech II (effectively a janitor) at $27 per hour. After 6 months my work ethic and ability to adapt and learn was noticed by another section and I was transferred and promoted to a Flight Tech II position at $33 per hour. This new role gave me the opportunity to build flight hardware and ground support equipment. I worked hard and worked on a few projects as a Flight Tech and by May 2021 I was promoted to Electrical Mechanical Technician III at $39 per hour. On May 2022, I was asked to apply for another position as a System Safety Technician III which I took. That job came with $4.00 raise and now I'm making $43.00 per hour.

WFW gave me the opportunity and I my experience and discipline from the military helped me surpass everyone's expectations. In less than 4 years I have climbed the ladder dramatically. For me, that's a short timeline that I never anticipated but hard work, sacrifice, and a little networking goes a long way. Thanks again WFW for all you do!"

– Jaime Serrano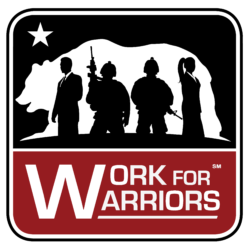 Jaime Serrano
"Anthony Altemoos was so easy to talk to. He took the time to really understand where I wanted to take my career. It's been a long time since I've worked with someone who actually cared about my career needs. My experience with Anthony as my Staffing Consultant was exceptional!

P.S. I got the job!"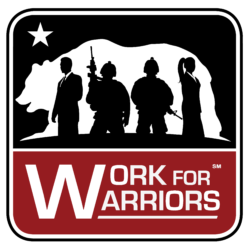 Daniel J, 12/30/21
"The GAF Roofing Academy was fantastic! I really feel like I have the basic knowledge to get a 1st job. They put us into teams of 2, and we tore down and built a side of roofing. They also introduced us to techniques on roofing valleys as well as encountering walls, chimneys & other objects. I would highly recommend it!"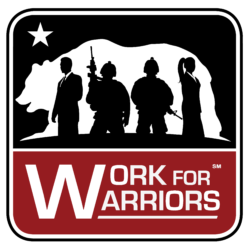 Hollie O, 09/13/2021
"My experience with Work for Warriors has always been a pleasant one. During times where I am desperate in need of a job , this program helped me achieved that goal . I would recommend this program to any veteran, they help with job positions, and help in every step."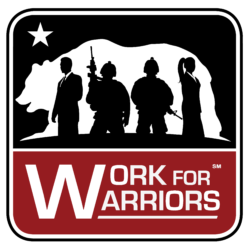 Navdeep R, 05/18/21
"My experience with Work for Warriors has been fantastic. The support and assistance that your group has given me in finding gainful employment has been very positive. I especially appreciate the fact that your people not only email out job opportunities but also connect directly with hiring managers to put in a good word for veterans who have applied for specific jobs. I think that proactiveness is the key to your organization's effectiveness. Thank you to you and your organization. I can't recommend you guys highly enough, and I will let other veterans know of your services. Thank you again."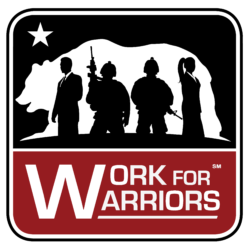 Randy E, 05/18/21
"I want to say that Work For Warriors helped me a lot with my resume restructuring and interview skills. Amanda Sansevere was very, very helpful in this process of cleaning up my resume and helping me understand what companies are looking for in the hiring process. I feel like she went above and beyond to help me get hired, and I greatly appreciate it.

I would definitely recommend Work For Warriors… Work For Warriors basically went through the crawl, walk, run phase. From building the resume to where it makes sense, prepping for the interview, and then jumping right into the interview with all the tool to be successful."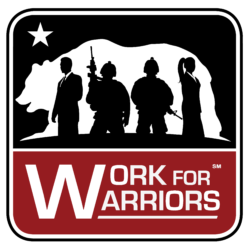 Marcus F, 09/13/21
"Hello James, I just wanted to let you know that I start my new job training with SoCalGas tomorrow Monday the 21st in Bakersfield for 3 weeks. I just want to say thank you for your assistance in this process, I know it's been a long hiring process but I'm glad I stuck with it to get to this point.

Much is appreciated!"

-Brandon H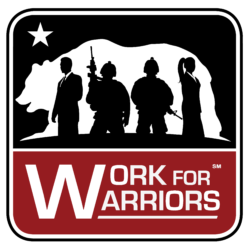 Brandon H, 03/21/22
STAFF
A team of 16 Service Members and Veterans operate Work for Warriors. They match the skill sets of our highly qualified Service Members, Veterans, and Spouses with the needs of civilian employers. Businesses who want to hire experienced Service Members will only have to contact our Veteran Staffing Consultants, who serve as the single point of contact for their employment needs.
Candidate Process
1.      Contact Work for Warriors (WFW)
2.      WFW will match candidates with the skills and requirements of the desired, open position/s
3.      WFW will critique and develop candidates' resumes
4.      WFW will assist with interview preparation
5.      WFW will continue to assist and conduct follow up throughout the process